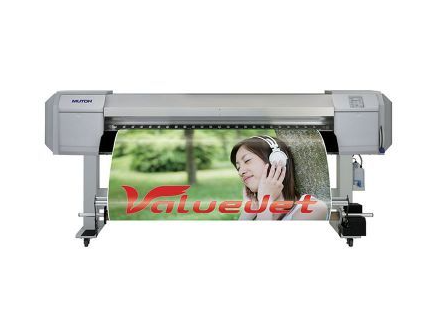 Just as proper auto maintenance can add years of service and enhance resale value to your car, taking good care of your wide format inkjet printer can prolong its service life and add to its eventual resale value.
The inks used in these printers strike a good balance between being aggressive enough to produce long term outdoor signage and being mild enough to reduce the headaches traditional full solvent printers can bring. But any printer will clog and become troublesome or useless if neglected or improperly maintained. So what should you do to make sure your printer stays in good working condition?
Follow these simple regular procedures:
Daily: If you're not using the printer, at least print a nozzle check or test pattern. This will give you an instant read on the state of the nozzles and keep everything flowing nicely.
For a nozzle check, just hold down the nozzle check button on the printer menu for two seconds.
To access the other test print options, press Menu. Then press the down arrow to access the Test Print menu and select one of five. "Test5" is the "Color Inkjet Palette" which is the best option for getting a good read on all the heads. If you print nothing else that day, the palette will keep things flowing nicely. You can also keep one on hand to use as a color swatch guide for picky customers.
Twice Weekly: Use the maintenance swab to clean the wiper in the maintenance station and clean around the cap. This prevents excess ink from building up on the print head.
Weekly: Clean the front of the print head, behind the print head, and the gap between the head and the Guide ramps.
Twice monthly: Replace the Flushing Box insert.
There are several articles available on our website that provide more helpful tips and instructions about care and maintaining your printer. To make sure you have what you need to maintain your machine.
If you follow these simple steps, you'll help insure that your printer will have a long and productive life churning out signs, banners, and profits.
vivew more :
---
Post time: Apr-19-2022